Hi! Today I will be exploring the world of infant car seats. If there is one baby item you are required to have, it's this one (Unless you never ever ride in a car). It has proven itself as a efficient security device to protect our precious cargo during car rides, over and over again.
However, because of flammability security standards, these seats (and many, many other household and baby items) are sprayed with various chemicals, like flame retardants. ALL infant car seats on the north-american market (except one) contain at least one chemical flame retardant.
These flame retardants are highly toxic, and have been linked to various health issues like: thyroid problems, memory and learning difficulties, fertility problems, behavioral changes and cancer. A prolonged exposition to these Flame retardants can also cause a lowering of the IQ, hormonal changes, damages to the reproductive system, damages to the thyroid gland and metabolical functions, and affect the neurological development of children.
About 1/5 of nursing pillows, car seats, high chairs, changing mats, made with polyurethane foam contain, according to this
2012 study
, the flame retardant Firemaster 550. The second most detected flame retardant was the ''Chlorinated Tris'', also known as TDCCP. This chemical product was retired from children's pyjamas in the 70's after being linked to cancer risks. However, it has never been officially banned and is still used on many consumer products.
Did you know that American babies are born with the highest levels of flame retardant chemicals in their system compared to the rest of the world?
Other products, like PVC, which is largely used in plastics, has been associated with fertility issues, premature births, and damaging of the liver, testes, thyroid gland, ovaries, kidneys and blood (among others)
Also, heat (in cars, int the summer, particularly) affects the composition of these chemicals, making them even more toxic.
Most of the tested carseats also had traces of lead, arsenic, cadmium, antimony, chromium, mercury, tin, chlorine and bromine.
And now, what to do? Some car seats have been classified according to their toxicity, through this study done in 2016: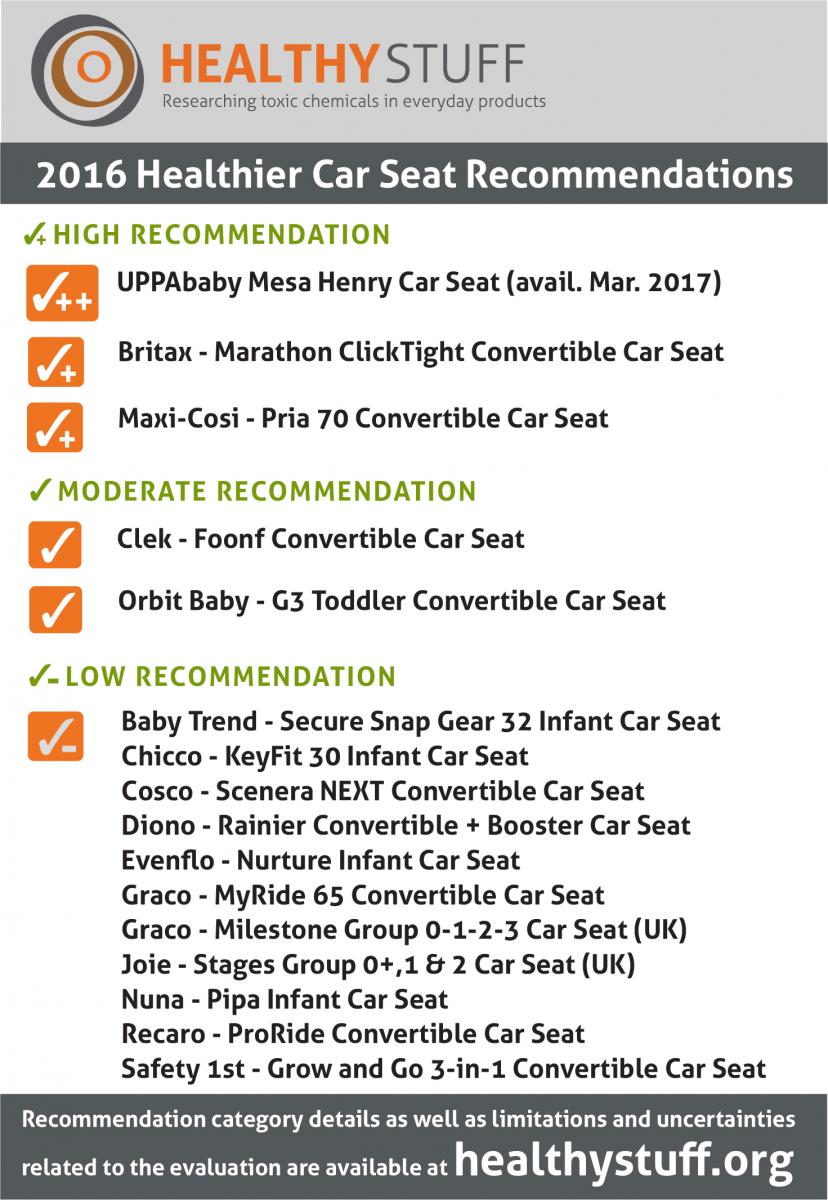 At the time of writing this post, the only car seat on the market free of chemical flame retardants, is the ''
Henry
'' model by UppaBaby Mesa. This infant car seat is made with wool, which is naturally flame retardant, and non-toxic (also much more efficient against fires than chemical retardants).
The second best option, according to this study, would be Britax car seats. This company has supposedly promised back in 2013 to remove some toxic flame retardants containing bromine, chlorine and other halogens from all parts of their car seats, but still making sure to comply with flammability standards. So, technically, any car seat from this brand produced after 2013 should be a little better than others, according to this study from
healthystuff.org
.
But are there other options? Because the ''Henry'' wool carseat still costs between 300 an 350 US dollars! And according to what I found online, it doesn't,t seem to be available yet in Canada. At least, Britax ones are easy enough to find.
Here is a list of solutions:
- Contact infant car seat companies to show them your desire to have access to non-toxic products
- Limit the time spent by your baby in the car sea to a minimum. It should be only used for car travel, and not as an infant seating device inside the house or for napping.
- Limit carseat exposure to heat and sun: Park in the shade as much as possible, and cover car windows with screens (which can help lower temperature inside the vehicle).
- Vacuum your car often, and the carseat(s) too. Flame retardants can hang onto dust particles. Keep car windows open when possible.
- If you are shopping for a infant car seat, look for companies with a policy for minimum use of chemical flame retardants
- Put a thin blanket or cover between your baby and the seat. There are many different models of special car seat blankets or covers made with slits to pull the straps through. They are also quite easy to
make yourself
too! Take care not to get something too thick as it could alter the security of the car seat.
- Washing the cover can also remove some of the chemicals
- You can also completely re-make the carseat cover. The Make-it and Love-it blog has a great
tutorial
explaining how to proceed. Beware though, some seats won't be covered by the warranty if modifications are made to it. And if you want the seat to still have some flammability protection, opt for wool padding or a merino fabric to cover it.
Hope this article was helpful!
A few ressources:
http://media.apps.chicagotribune.com/flames/index.html
http://www.ecocenter.org/healthy-stuff/
http://www.ecocenter.org/healthy-stuff/reports/childrens-car-seat-study/report_summary
http://shopwithmemama.com/2016/03/least-toxic-carseats-precious-cargo/
http://www.nontoxicmunchkin.com/2016/12/flame-retardants-chemicals-still-used.html
http://www.nontoxicmunchkin.com/2015/06/the-car-seat-dilemma-they-save-lives.html
http://www.nontoxicmunchkin.com/2013/01/whos-most-non-toxic-car-seat-of-them-all.html
http://www.nontoxicmunchkin.com/2012/05/average-american-baby-is-born-with-10.html
http://www.nontoxicmunchkin.com/2014/02/chemical-conscious-parents-update-on.html
http://www.nontoxicmunchkin.com/2015/11/dukes-boss-lady-of-flame-retardants.html
http://www.imperfecthomemaking.stfi.re/2012/01/tutorial-hooded-car-seat-blankies.html?sf=pgnygvd#aa